Chapter 1
Please keep these annotations SPOILER-FREE by not revealing information from later pages in the novel.
How to Format Entries
Quoted Text
Explanation or analysis of Quoted Text
Individual opinions or discussion. Sign by writing "~~~", if you like.
To add a page: Type ==Page xx==
Please add entries for each page in the order they appear on the page.
Title
"Bleeding Edge" has a number of meanings. See Bleeding Edge Title. The phrase first appears on pg. 78 — "What's known as bleeding-edge technology. [...] No proven use, high risk, something only early-adoption addicts feel comfortable with."
Cover
The cover photograph is of a server farm. I found it here. It's entitled "Server Farm at Night." Note how the image also evokes the World Trade Center, and the cover of Pynchon's V. ...
More info at Bleeding Edge cover analysis
Book jacket description
Pynchon likely wrote the copy for the book jacket description of Bleeding Edge and he likely did the same for Inherent Vice.
Epigraph
Donald Edwin Westlake (July 12, 1933 – December 31, 2008) was an American writer, with over a hundred novels and non-fiction books to his credit. He specialized in crime fiction, especially comic capers, with an occasional foray into science fiction or other genres. He was a three-time Edgar Award winner, one of only three writers (the others are Joe Gores and William L. DeAndrea) to win Edgars in three different categories (1968, Best Novel, God Save the Mark; 1990, Best Short Story, "Too Many Crooks"; 1991, Best Motion Picture Screenplay, The Grifters). In 1993, the Mystery Writers of America named Westlake a Grand Master, the highest honor bestowed by the society. More on Wikipedia
Title Page
Flatiron Building
The title page feature a photograph of the Flatiron Building, a skyscraper in NYC. "The neighborhood around it is called the Flatiron District after its signature building, which has become an icon of New York City." Wikipedia
Dedication
Like Inherent Vice and Against the Day, Bleeding Edge has no dedication. Pynchon dedicated three of his earlier novels to friends and family: Mason & Dixon ("For Melanie, and for Jackson"), Vineland ("For my mother and father"), and Gravity's Rainbow ("For Richard Fariña").
Page 1
"the first day of spring, 2001"
three instances of beginnings: the first day, of spring (the season of beginning and renewal), of the new millennium.
"though some still have her in their system"
the novel's first sentence invokes the topic of personal data held in various databases or systems.
"walking her boys to school"
This scene -- a parent walking children to school in the Upper West Side of New York City -- is, more than any of Pynchon's novels, evocative of what is reported of Pynchon's biography.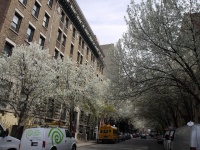 Callery Pear trees Planted extensively in NYC due to its fast-growing nature and tolerance of pollution and other extreme conditions. Central Park Conservancy Their blooming is a first sign of spring.
Much has been written on how Callery trees smell like semen. E.g., article
Page 2
unhoused
a term meaning those homeless who sleep in such places as doorways and lobbies. "The word unhoused refers to that segment of a homeless community who do not have ordinary lawful access to buildings in which to sleep, as referred to in the HUD [United States Department of Housing and Urban Development] definition as persons occupying "place not designed for ... sleeping accommodation for human beings." "Wikipedia
Razor scooters
a popular brand of scooter, but note how the word "razor" echoes/evokes the title, Bleeding Edge.
Otto Kugelblitz
German, "ball lightning". The Kugelblitz was also the name of a tank in WWII. Wikipedia
Many references to Germany, German words, names and German history run throughout Pynchon's oeuvre, to the point where Pynchon scholar David Cowart posits that "Pynchon seems to have had a German period, a post-German period, and a neo-Continental or global period. During his German phase he produced his first three novels... His next work, the long-awaited Vineland, represents a new phase in which the almost obsessive attention to German more seems to have faded." Thomas Pynchon and the Dark Passages of History (2012), at p. 59. Benvolio (talk)
A character name Skip the sentient ball lightning appears in Against the Day. [1]
Page 3
"Maxi, hi?"
Vyrva speaks in uptalk, or phrasing statements like questions, a linguistic characteristic found (among other places) in Southern California, especially among so-called "Valley girls". Wikipedia
Page 4
antennas for the unspoken
Cf, a letter by Pynchon: "Given the British genius for coded utterance, this could all be about something else entirely, impossible on this side of the ocean to appreciate in any nuanced way..." Source
Page 6
the gates of Danbury
a federal prison. Wikipedia
Crazy Eddie
American electronics store famous for its radio and TV ads in the 60s and 70s, featuring the slogan, "his prices are insane". The T-shirt in question was designed by, of all people, Robert Crumb. The TV ads featured New York disc jockey Jerry Carroll as the pitchman. Wikipedia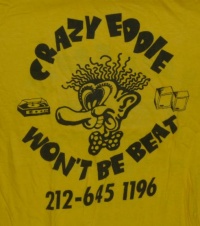 Page 7
"Help Me Rhonda"
1965 song by the Beach Boys. Pynchon reportedly recommended that Jules Siegel listen to the Beach Boys' Pet Sounds, as recounted in Siegel's article, "Who is Thomas Pynchon, and Why Did He Take Off With My Wife" (1977). Pynchon mentions "Help Me Rhonda" and two other Beach Boys hits in Inherent Vice. [2]