Pynchon Wiki: Bleeding Edge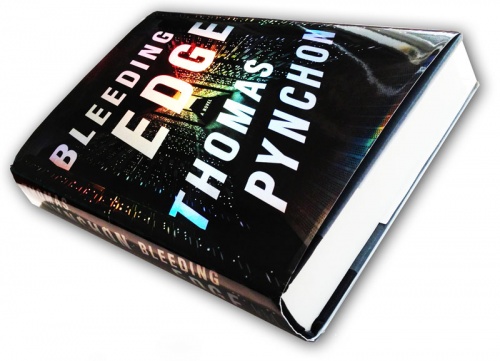 Welcome to the Bleeding Edge Wiki!
To become a contributor/editor, Create an account.
This is the Wiki for Thomas Pynchon's Bleeding Edge. Besides using the Alphabetical Index and the page-by-page annotation, you can also take a look at Bleeding Edge cover analyses, read the reviews, or entertain some theories on the source of the title.
How to Use this Wiki
There are two major ways to use this wiki. The first is the Bleeding Edge Alphabetical Index, used to keep track of the myriad characters, real and imagined, as well as events, arcana, and lots of other stuff. The second is the Spoiler-Free Annotations by Page, which allows the reader to look up and contribute allusions and references while reading the book, in a convenient and spoiler-free manner.
Apart from those, it's up to you.
Bleeding Edge Alpha Guide to Characters, Places & More
Page by Page Annotations
Featured Articles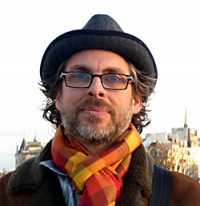 Wow! Writer Michael Chabon delivers a wonderful, insightful review of Bleeding Edge.
Chabon's a long-time appreciator of Pynchon and his perspective on the work is unsurpassed, and his 11/07/13 review for
The New York Review of Books
is illuminating...
"One ought to be accustomed, by now, to Pynchon's leaving his mysteries unresolved, or at least prepared to give him credit for having done so on purpose. Incompleteness is the inherent vice of paranoid theories of history, the limitation of such theories that Pynchon has always freely acknowledged. Criticism of Pynchon's "shaggy dog" or sloppy plotting neglects the emphasis that he has always laid on the dual meaning of the word
plot
. From
V.
forward, nearly all his novels have been founded on a bedrock of detective fiction and underlayed with science fiction, boy's adventure, westerns, spy fiction, and other genres that rely, like conspiracy theories, on plotting. His broken plots expose the epistemological brokenness of paranoid systems, which are, after all, nothing but attempts, grander but no less doomed to failure than anyone's, to make sense of a broken world."
Full article »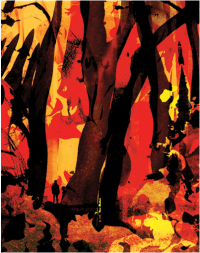 An exellent Harper's Magazine article that combines a review of Bleeding Edge with detailed biographical and genealogical info on Mr. Pynchon, and a Must Read!
"
Bleeding Edge
, however, offers an indication that Pynchon has finally given up on seeking the soul of the nation his family helped found. For Pynchon — the embattled bard of the counterculture, disabused of all allegiance — the last redoubt has become the family, and the last war to be waged is between our virtual identities and the bonds of blood; a war to keep the Virtual from corrupting the Blood, if not forever, then for time enough to let the lil' Ziggy and Otis Tarnow-Loefflers of this world live with the merest pretense of freedom (childhood). Pynchon understands that in the future there will be no secrets, no hidden complots — everything will be aired and any second life, whether in the cloud or in the firmament, will be despoiled or denied us. Adult sanity, then, must depend not on the lives we make online, but on the lives we make off it — our kids — on how we love them, and how we raise them, and the virtues and good-taste imperatives we pass on to them from our progenitors."
Full article »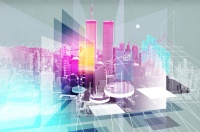 Jonathan Lethem's review of Bleeding Edge for The New York Times is one of the most intelligent and insightful reviews.
Like Michael Chabon, Lethem
gets
it!
"[There is] the sheer vitality and fascination, the plummets into beauty and horror, the unique flashes of galactic epiphany, in Pynchon's method. Our reward for surrendering expectations that a novel should gather in clarity, rather than disperse into molecules, isn't anomie but delight. Pynchon himself's a good companion, full of real affection for his people and places, even as he lampoons them for suffering the postmodern condition of being only partly real. He spoils us with descriptive flights."
Read the review...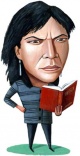 Noticing that
New York Times
critic
Michiko Kakutani
has panned every Pynchon novel after
Mason & Dixon
(1997) — the latest target being
Bleeding Edge
— I became curious as to just who this grumpy critic is. If you're curious too, read "Assessing Michiko Kakutani":
"Kakutani doesn't offer the stylistic flair, the wit, or the insight one gets from Kael and other first-rate critics; for her, the verdict is the only thing. One has the sense of her deciding roughly at Page 2 whether or not a book is worthy; reading the rest of it to gather evidence for her case; spending some quality time with the Thesaurus; and then taking a large blunt hammer and pounding the message home." Read on...

Bleeding Edge Review by David Kipen, for Publishers Weekly
, is a well written and insightful appreciation of Pynchon's craft and his new novel! "No one, but no one, rivals Pynchon's range of language, his elasticity of syntax, his signature mix of dirty jokes, dread and shining decency."
Read the review...
Pynchon Wiki Help and Contributor Guidelines
Click here for help with editing and creating pages.
We have a few conventions we ask that you follow:
When creating a new page, if its information pertains to one (and only one) specific Pynchon novel, please categorize it with the appropriate identifier. For example, a page pertaining to Bleeding Edge, should use the syntax [[Category:BE]].
To open a discussion on an individual listing of the Alpha Index, create one using the entry on Peter Tait as an example. Basically, give it a name that identifies the alpha listing (eg [[Name Discussion|DISCUSSION]]) and notice that the visible name will be "DISCUSSION" in full caps, so it stands out a bit.
External Links
Literarywiki.org - wiki annotations to works by Pynchon, Umberto Eco, and many others.
Image Gallery
Below are some of the images you will find on Pynchon Wiki.

Thanks, and enjoy...