Difference between revisions of "Chapter 15"
Line 33:
Line 33:
 
 
 

==Page 165==

 

==Page 165==

 
+
 
+
 
+
 

'''the World Trade Center leaning, looming brilliantly curtained in light'''<br/>

 

'''the World Trade Center leaning, looming brilliantly curtained in light'''<br/>

 

Another foreshadowing of 9/11

 

Another foreshadowing of 9/11
---
Revision as of 19:43, 24 September 2013
Please keep these annotations SPOILER-FREE by not revealing information from later pages in the novel.
How to Format Entries
Quoted Text
Explanation or analysis of Quoted Text
Individual opinions or discussion. Sign by writing "~~~", if you like.
To add a page: Type ==Page xx==
Please add entries for each page in the order they appear on the page.
Page 160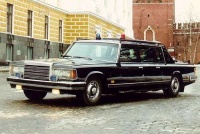 ZiL-41047
ZIL-41047 is a limousine built by ZIL of Russia. Production of ZIL models ceased in 2002 due to their previous customer base turning to more modern Western vehicles. From WIKI.
Page 161
kagdila
Padonkaffsky jargon for "how are you." A misspelling of kak dela.
methcathinone
Methcathinone (sometimes called "cat" or "jeff") is a monoamine alkaloid and psychoactive stimulant similar to cathinone, the primary psychoactive compound in khat. It is used as a recreational drug and considered to be addictive. It is usually snorted, but can be smoked, injected, or taken orally. From WIKI.
Page 162
govno
Total shit
Page 163
live local bachata groups
Bachata is an Afro latino genre of music that originated in the Dominican Republic in the early parts of the 20th century with the African descendants in the country and spread to other parts of Latin America and Mediterranean Europe. It became popular in the countryside and the rural neighborhoods of the Dominican Republic. Its subjects are often romantic; especially prevalent are tales of heartbreak and sadness. In fact, the original term used to name the genre was amargue ("bitterness," or "bitter music"), until the rather ambiguous (and mood-neutral) term bachata became popular. The form of dance, Bachata, also developed with the music. From WIKI.
Page 164
Celia Cruz
Úrsula Hilaria Celia de la Caridad Cruz Alfonso de la Santísima Trinidad (October 21, 1925 – July 16, 2003) was a Cuban-American salsa performer. One of the most popular salsa artists of the 20th century, she earned twenty-three gold albums and was renowned internationally as the "Queen of Salsa" as well as "La Guarachera de Cuba." She spent much of her career living in New Jersey, and working in the United States and several Latin American countries. Leila Cobo of Billboard Magazine once said "Cruz is indisputably the best known and most influential female figure in the history of Cuban music." From WIKI.
"Cuándo Volverás"
"Cuándo Volverás" is a 1999 song by Aventura. You can hear it here.
Studio 54
Studio 54 was a famous club in the late 1970s in Manhattan, known for rich people using drugs and dancing to Disco music.
Page 165
wolf-whistle
A wolf-whistle is a two-toned sound (like 'whip-woo') commonly made using the above technique to show approval of something or someone (originally a person thought to be sexually attractive).
the World Trade Center leaning, looming brilliantly curtained in light
Another foreshadowing of 9/11
Page 166
This Land Is My Land, This Land Also Is My Land
Obviously, a play on Woody Guthrie's song: "This land is my land, this land is your land."
Page 169
Captain Stubing
Captain on The Love Boat, a TV show in the 70s and 80s. Also mentioned on pg. 16.
Page 171
I'm really Dr. Ruth Westheimer, nothing shocks me
A famous and unflappable sex therapist.