Difference between revisions of "Chapter 15"
m

Line 70:
Line 70:
 

'''This Land Is My Land, This Land Also Is My Land'''<br/>

 

'''This Land Is My Land, This Land Also Is My Land'''<br/>

 

Obviously, a play on Woody Guthrie's song: "This land is my land, this land is your land."

 

Obviously, a play on Woody Guthrie's song: "This land is my land, this land is your land."

 
+
 
+
 
+
 
+
 
 
 

==Page 169==

 

==Page 169==
---
Revision as of 17:53, 11 January 2014
Please keep these annotations SPOILER-FREE by not revealing information from later pages in the novel.
How to Format Entries
Quoted Text
Explanation or analysis of Quoted Text
Individual opinions or discussion. Sign by writing "~~~", if you like.
To add a page: Type ==Page xx==
Please add entries for each page in the order they appear on the page.
Page 160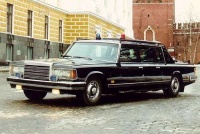 ZiL-41047
ZIL-41047 is a limousine built by ZIL of Russia. Production of ZIL models ceased in 2002 due to their previous customer base turning to more modern Western vehicles. From WIKI.
Page 161
kagdila
Padonkaffsky jargon for "how are you." A misspelling of kak dela.
methcathinone
Methcathinone (sometimes called "cat" or "jeff") is a monoamine alkaloid and psychoactive stimulant similar to cathinone, the primary psychoactive compound in khat. It is used as a recreational drug and considered to be addictive. It is usually snorted, but can be smoked, injected, or taken orally. From WIKI.
Page 162
govno
Total shit
Page 163
live local bachata groups
Bachata is an Afro latino genre of music that originated in the Dominican Republic in the early parts of the 20th century with the African descendants in the country and spread to other parts of Latin America and Mediterranean Europe. It became popular in the countryside and the rural neighborhoods of the Dominican Republic. Its subjects are often romantic; especially prevalent are tales of heartbreak and sadness. In fact, the original term used to name the genre was amargue ("bitterness," or "bitter music"), until the rather ambiguous (and mood-neutral) term bachata became popular. The form of dance, Bachata, also developed with the music. From WIKI.
Page 164
Celia Cruz
Úrsula Hilaria Celia de la Caridad Cruz Alfonso de la Santísima Trinidad (October 21, 1925 – July 16, 2003) was a Cuban-American salsa performer. One of the most popular salsa artists of the 20th century, she earned twenty-three gold albums and was renowned internationally as the "Queen of Salsa" as well as "La Guarachera de Cuba." She spent much of her career living in New Jersey, and working in the United States and several Latin American countries. Leila Cobo of Billboard Magazine once said "Cruz is indisputably the best known and most influential female figure in the history of Cuban music." From WIKI.
Paradise Garage
Noteworthy members-only disco that operated from 1976 to 1987. It appears to have been very serious dance club; according to this lengthy djhistory page, it was an exclusive, private place, extremely focused on music and dancing, a disco that did not serve serve alcohol, and instead had non-alcoholic drinks, and some snacks, simply on-hand for the dues-paying members. It's remembered fondly as a gathering space where the wide variety of members, united by their interest and commitment to dance, created some sense harmony and unity. From the djhistory page: In stark contrast to the harsh city lights outside, the Garage offered freedom, compassion and brotherhood.
In other words, it was the "anti" Studio 54.
Presidente longneck
Dominican beer.
"Cuándo Volverás"
"Cuándo Volverás" is a 1999 song by Aventura. You can hear it here.
Studio 54
Studio 54 was a famous club in the late 1970s in Manhattan, known for rich people using drugs and dancing to Disco music.
Page 165
wolf-whistle
A wolf-whistle is a two-toned sound (like 'whip-woo') commonly made using the above technique to show approval of something or someone (originally a person thought to be sexually attractive).
1937 Gar Wood
This page says the value of the rare boat could be over three hundred thousand dollars.
Pappy Mason
Drug smuggler who has a WIKI page.
the World Trade Center leaning, looming brilliantly curtained in light
Another foreshadowing of 9/11
Page 166
Port Richmond
A neighborhood on the north shore of Staten Island centered on an old commercial street, Port Richmond Avenue. I worked at Goldwyn Jewelers on Port Richmond Ave in high school. From NYPL
Hey Denino's
524 Port Richmond Ave, Staten Island, New York 10302 http://www.deninos.com/

Neglected little creeks... Yupper West Side
This description of a mountainous garbagescape echoes a similar, lengthier, backdrop in Pynchon's shorter work Low-lands (1960) published in the compilation Slow Learner.
Island of Meadows
The Isle of Meadows is a 100-acre uninhabited island on Staten Island, New York in the United States. It is located along the western side of Staten Island, where the Fresh Kills empties into the Arthur Kill. The island is owned by the city of New York. In the 1990s, the island escaped becoming part of the Fresh Kills Landfill. It is now a nature preserve providing important meadow and salt marsh nesting habitat for herons, ibises, and egrets, and is not accessible to the public. From WIKI.
This Land Is My Land, This Land Also Is My Land
Obviously, a play on Woody Guthrie's song: "This land is my land, this land is your land."

A long, eerie wait ...
A long, aerie wait
Page 169
Captain Stubing
Captain on The Love Boat, a TV show in the 70s and 80s. Also mentioned on pg. 16.
Can you believe this show lasted for 9 years and 249 episodes? WIKI
Page 170
Schachtmanite goons like Elliott Abrams
Max Shachtman (September 10, 1904 – November 4, 1972) was an American Marxist theorist. He evolved from being an associate of Leon Trotsky to a social democrat and mentor of senior assistants to AFL-CIO President George Meany. He supported the Bay of Pigs invasion. From WIKI.
Elliott Abrams (born January 24, 1948) is a well known neoconservative American diplomat, lawyer and political scientist who served in foreign policy positions for both U.S. Presidents, Ronald Reagan and George W. Bush. While serving for Reagan, Abrams and retired U.S. Marine Corps officer Oliver North were integral players in the Iran-Contra affair. From WIKI.
Ríos Montt
José Efraín Ríos Montt (born June 16, 1926) is a former de facto President of Guatemala, dictator, army general and former president of Congress. A General in the Guatemalan Army, Ríos Montt came to public office through a coup d'état on March 23, 1982. In turn, he was overthrown by his Defense Minister, Óscar Humberto Mejía Victores, in another coup d'état on August 8, 1983. From WIKI.
EGP or Guerrilla Army Of The Poor
See WIKI.
Page 171
I'm really Dr. Ruth Westheimer, nothing shocks me
A famous and unflappable sex therapist.