Chapter 34
Please keep these annotations SPOILER-FREE by not revealing information from later pages in the novel.
How to Format Entries
Quoted Text
Explanation or analysis of Quoted Text
Individual opinions or discussion. Sign by writing "~~~", if you like.
To add a page: Type ==Page xx==
Please add entries for each page in the order they appear on the page.
Page 366
"Series'll be on tonight, El Duque's starting, maybe against Curt Schilling
El Duque is the nickname of NY Yankees pitcher Orlando Hernandez. In this game, he pitched 6 1⁄3 solid innings, but gave up a game-tying upper deck home run to Mark Grace of the Arizona Diamondbacks in the fourth inning. Curt Schilling of the Diamondbacks pitched on only three days rest.
Vegeta

Vegeta is a fictional character in the
Dragon Ball
manga series created by Akira Toriyama.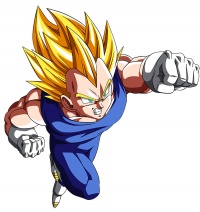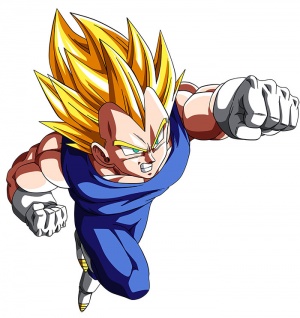 NAND gate ("I say yes to everything")
In digital electronics, a NAND gate (Negated AND or NOT AND) is a logic gate which produces an output that is false only if all its inputs are true. A LOW (0) output results only if both the inputs to the gate are HIGH (1); if one or both inputs are LOW (0), a HIGH (1) output results. It is made using transistors. Wikipedia
Aki Ross
Aki Ross is a fictional character and the protagonist of the movie Final Fantasy: The Spirits Within. Aki Ross is voiced by Chinese-American actress Ming-Na. She was expected to be the first photorealistic computer-generated actress to appear in multiple movies in different roles. From WIKI.
Page 367
Margaret Mead
Margaret Mead (December 16, 1901 – November 15, 1978) was an American cultural anthropologist, who was frequently a featured author and speaker in the mass media throughout the 1960s and 1970s. She earned her bachelor degree at Barnard College in New York City, and her M.A. and Ph.D. degrees from Columbia University. She was both a popularizer of the insights of anthropology into modern American and Western culture and a respected, if controversial, academic anthropologist. Her reports about the attitudes towards sex in South Pacific and Southeast Asian traditional cultures amply informed the 1960s sexual revolution. Mead was a champion of broadened sexual mores within a context of traditional western religious life. From WIKI.
Dubuque
One of the few large cities in Iowa with hills, it is a major tourist destination, attracted to the city's unique architecture and river location. Also, it is home to five institutions of higher education, making it a center for culture and learning. From WIKI.
...in time to witness Derek Jeter's clutch tenth-inning homer and another trademark Yankee win
This extra innings game carried on past midnight, making it the first World Series game played in November(largely due to the rearranged schedules and postseason as a result of 11 September). When the scoreboard clock in Yankee Stadium passed midnight, the message on the scoreboard read, "Welcome to November Baseball". Derek Jeter shortly afterwards hit an opposite field walk-off home run on a 3–2 pitch count from Byung-Hyun Kim. This walk-off home run gave the Yankees a 4–3 victory and tied the Series at two games apiece, making Jeter the first player to hit a November homerun and earning him the tongue-in-cheek nickname of "Mr. November"(itself a play on former Yankee Reggie Jackson's World Series nickname "Mr. October).
Keanu Reeves
Another Keanu reference. Something to this?
Page 368
shoat but sweet, as they say around the pigpen
A shoat is a young pig. Get it?
Page 369
Steely Dan's "Ain't Never Gonna Do It without the Fez On"
Title of that song: "Royal Scam"
The song is more simply titled "The Fez," from the 1976 album Royal Scam. Likewise, on page 158 Pynchon elongated the title of "Dr. Wu" into "Are You with Me Dr Wu."
Also, the word "ain't" is not in the song. Lyrics are here and they go: No I'm never gonna do it without the fez on.
tchotchkes
Tchotchke is a small bauble or miscellaneous item. Depending on context, the term has a connotation of worthlessness or disposability as well as tackiness, and has long been used by Jewish-Americans and in the regional speech of New York City and elsewhere. The word may also refer to free promotional items dispensed at trade shows, conventions, and similar large events. From WIKI.
this overdue-for-exorcism building
The Dakota, a possible model for the Deseret, is famously known for being the principle location used in the film "Rosemary's Baby" (1968). Of course, it was also the abode, and murder site, of John Lennon. And the site for Time and Again (Jack Finney 1970) Wiki
Page 371
"Lester was fellow podonok,"
Podonok is a Russian term meaning riff-raff, scoundrel, or scum. lowest of the low.
that Civil Hackers' School in Moscow [...] "Umnik Academy!"
From here...
"UMNIK of NCFU" Club for Young Scientists
Since 2008 foundation of assistance to development of small enterprises in scientific and technical area performs financial support of scientific projects of young scientists (under 28 years), which are commercially significant. Financing is carried out on the basis of results of "U.M.N.I.K." (Participant of Youth Scientific Innovative Competition) competition. Annually the foundation accepts requests and accredits several dozens of events in the territory of the Russian Federation, within the framework of which money grants for the young people, who have scientific ideas to be commercialized, are planned.
chainiki
Chainik is a computer term that implies both ignorance and a certain amount of willingness to learn (as well as a propensity to cause disaster), but does not necessarily imply as little experience or short exposure time as newbie and is not as derogatory as luser. Both a novice user and someone using a computer system for a long time without any understanding of the internals can be referred to as chainiks. Wikipedia
Page 375
FSB... SVU...
Federal Security Service, see WIKI.
Czechoslovak Society of Arts and Sciences (SVU), see WIKI.
Page 376
You want secular cause and effect...
Echoes the same, almost identical, line from Gravity's Rainbow, page 663 (Viking Ed.): "You will want cause and effect. All right."
Day of the NYC Marathon
Sunday, November 4
Page 377
especially this soon after eleven September
Perhaps this is simply a typo; everwhere else this date is referred to as "11 September"
Yes, I remember
From page 258.
eppes-essen
Eppes Essen, besides being a Jewish Deli in New Jersey, is Yiddish for "I will give you something to eat"
Page 378
Tacitus
Publius Cornelius Tacitus (c. AD 56 – after 117) was a senator and a historian of the Roman Empire. The surviving portions of his two major works—the Annals and the Histories—examine the reigns of the Roman Emperors Tiberius, Claudius, Nero, and those who reigned in the Year of the Four Emperors (AD 69). These two works span the history of the Roman Empire from the death of Augustus in AD 14 to the years of the First Jewish–Roman War in AD 70. Tacitus is considered to be one of the greatest Roman historians. He lived in what has been called the Silver Age of Latin literature. He is known for the brevity and compactness of his Latin prose, as well as for his penetrating insights into the psychology of power politics. From WIKI.
Page 379
She should have tumbled ... to the peculiar lightlessness in his eyes...
The Oxford English Dictionary provides one definition of "to tumble": "(tumble to) (informal) understand the meaning or hidden implication of (a situation)"
Page 382
what Bobby Darin calls 'beyond the sea'
Bobby Darin performs Beyond the Sea on YouTube. To be a song about longing for a lost, perhaps dead, love, that sure is a happy sounding tune.